Project Management with CreataCRM
For many businesses, Project Management is a huge part of daily activities. A more interactive tool is necessary for flexible working, so with this in mind, we have added a feature to CreataCRM that provides a visual interactive Project Planning element. We also took this direction because we had numberous requests for such a feature. This feature provides both a treelist and timeline view so users can see 'at a glance' a projects start & end date, task progress, relationship between tasks, milestones and other components of the projects.

HOW IT WORKS

Watch a Video Tutorial - PROJECT MANAGEMENT OVERVIEW

Watch a Video Tutorial - PROJECT MANAGEMENT WITH THE DECK AND GANTT

THESE VIDEOS ALSO FEATURES ON THE TUTORIAL PAGE - TUTORIALS PAGE


Users will be able to view the projects either in a DETAILED VIEW which provides comprehensive information or a LIST VIEW which summarises those projects in progress.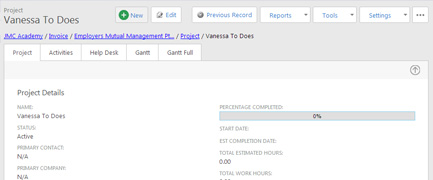 This view will enable you to observe and perform the following number of things.
Adding and viewing Attachments to the Project
Adding and viewing Jobs to the Project
Adding and viewing Colleagues/Staff to the Project
Adding and viewing Contacts to the Project
Adding and viewing Requests
Percentage completed Progress Bar
Start Date
Estimated Completion Date
Total Work Hours (for time billing)
Total Estimated Hours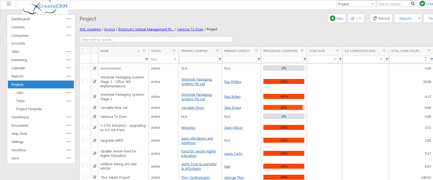 Users can access and view all projects in an easy list view arrangment, allowing the filtering of the projects as required. Also, the ability to see the percentage completed and work-in-progress bar status to help users to drill down to the projects.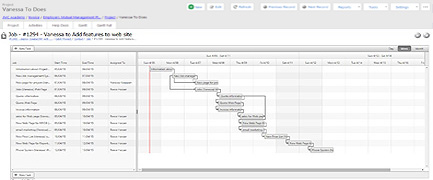 CreataCRM can also display your project(s) in a Gantt Chart Dashboard. This provides you with a terrific view of those project(s) that are running visually.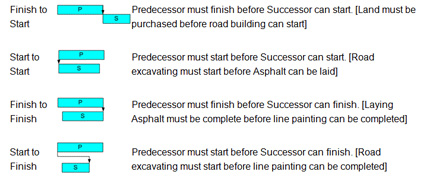 The Project Management feature gives you the ability to order your project based on the dependencies as indictated above, giving you flexibility on how you typically manage projects.
You may also be interested in Job Management & Invoicing? Click these to know more.


If this feature or anything else interests you, simply visit our 'CONTACT PAGE' to book your online demonstration, or give us a call on 02 9125 0575