Client Relationship OR Anything Relationship Management?

The xRM concept has evolved over the past ten years from the customer relationship management (CRM) applications of the previous decade to the sophisticated everything management solutions of today - the xRM. An xRM allows organizations to leverage technology to create efficiencies and become more profitable. By combining your business logic, CreataCRM and compatible applications, we can build you an xRM solution which manages every critical facet of your businees ensuring it's success.

See below the differences outlined between both a CRM and xRM (mainly highlighting what an xRM can do)

A CRM System & how it can help my business?



Capture relevant business data to provide marketing and business intelligence about your contacts Easily share information including notes and history with your team so they can provide your clients with a seamless customer service experience no matter which team member they speak to.

Ensure actions that need to be done for your clients are completed on time, by enabling you to monitor and manage you and your team's activities. Customer Relationship Management software is specifically designed for business owners and managers of sales teams. It provides one convenient system to manage your entire customer relationship.

This is done by bringing a number of programs people regularly use such as client database, contact history, diary and reminder system, To Do lists, email and mail merge programs all within the one easy to use system saving you and your team time. A quality CRM solution will provide the tools to enable your team to deliver memorable service, exceed customer expectations and increase referrals!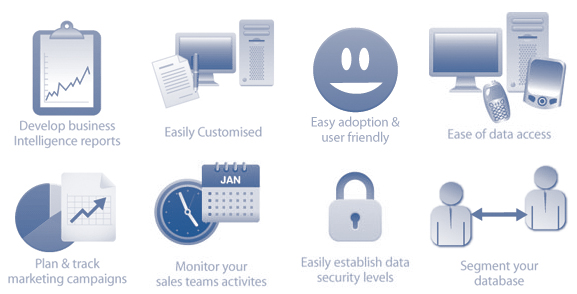 The key areas of a CRM are:

Customer Management Whether you are a small business or a large organisation, you need information on your customers. As well as basic information like their name and phone number you need to understand their requirements in order to provide a superior service to make them come back. A good CRM system will store all client data and enable the user to retrieve it easily and be able to draw reports on it at will.

Centralised Data Sharing If you have remote offices or staff who work out of the office, you can still share all the data. The Cloud makes this possible. Centralised data ensures everyone is seeing the same thing, or seening only what they need to whether they are using a tablet, hand held device or laptop.

Increased Productivity and Profits By implementing a CRM system sees about 30% improvement in productivity alone! By consolidating all your customer information into one easy to access program it saves you time, reduces paperwork and provides your team with instant access to information when you need it. Each person can schedule calls, meetings and to do lists and set alarms to ensure they don't get missed. Higher Productivity = Higher Profits

Greater Customer Retention Over 65% of customers who leave a business do so because they feel the business isn't interested in them or doesn't provide the service they expected. You spend a fortune getting new customers to buy from you once but that doesn't mean you've got them for life. Keeping clients and increasing profits is all about building relationships. Managing a lasting and profitable relationship with your customers and prospects is based on regular communication, an understanding of their needs, and timely responses. All this can be easily achieved using a CRM solution.

Greater Staff and Employee Accountibility Do you worry about whether your workforce are performing? A CRM systems gives you peace of mind knowing you have the systems to quickly monitor and manage the activities of your staff. It makes them accountable. No more missed opportunities or leads that are not followed up. No more black holes in the calendar or phone calls that were supposedly made. YOu can now see them all in motion for yourself. A CRM will ensure your team is consistently delivering the highest level of service, setting you apart from your competition.

Return on Investment By targeting the clients and prospects that have shown an interest in specific products or services you can cut back on expensive advertising that may not be working and focus on the clients who want to buy. Keep in touch with easy to create newsletters, prepare a personalised letter to a select group of clients or send a personalised email to thousands of contacts in a matter of minutes!

Reporting Intelligence. By using the reporting feature, you give yourself a detailed snapshot of the business and how it is performing. From basic contact list reports, evaluating customer needs to measuring service performance. Power at your fingertips!


How an xRM is different to CRMs!

An xRM will handle more than just the above mentioned. It takes into consideration the bigger picture. Many systems and processes make up your business. To have a system that can plug into all of these other systems & softwares is amazing and liberating and not many systems can boast this talent. CreataCRM can!.

An xRM will enable the following, to simply name a few:

• Link/integrate with the company website and extract data (leads, traffic) and store/report on it
• Link/integrate with the company ecommerce and extract data (product sales, enquiries) and report on it
• Link/integrate with invoicing systems and even provide this feature as a standard CRM function
• Link/integrate with quoting systems and even provide this feature as a standard CRM function
• Link/integrate with the latest Email Marketing utilities and even provide this feature as a standard CMR function
• Link/integrate with POP or SMTP Email systems and services including storage and reporting
• Be fully customisable from User Interface to back end configuration and integration
• Be limitless in number of active users, data storage & speed
• Provide multiple device accessibility
• Enable full development possibilities
• Link/consider Social Media activities and store/report on
• Link/integrate with latest web browsers & internet technologies
• Be available as an on premise solution and/or a hosted option
• Ensure security, privacy & data backup recovery


If you have any further questions about CRM Systems and XRM System, please simply contact us today and we'll be able to assist you. We are contstantly making our products better and more feature rich, so if you have any customisation requests, or suggestions, we invite you to get in touch with us, so we can make it happen. Call our office at Database Partners +612 9125 0575 or email our friendly staff at creatasales@creatacrm.com.au