Inventory Management & Stock Control with CreataCRM
CreataCRM can help you manage your Warehouseing & Inventory. CreataCRM boasts an Inventory Management tool but in addition to this, it will integrate with your external Inventory Management System (MYOB, Reacon etc). This technology gives you greater flexibility & understanding of stock and its movements on the go, real time, in the Cloud.
Watch a Video Tutorial - Inventory Management & Stock Control with MYOB
THESE VIDEOS ALSO FEATURES ON THE TUTORIAL PAGE -
TUTORIALS PAGE
CreataCRM releases you to manage Multiple Warehousing for your Business. This will provide you and your team with real time access to the stock levels of any product in any warehouse in your Business. You will be given the freedom to add additional products as well as the ability to conduct Stocktakes and Monitor the History of Transactions.
Our features are expanded on below however, if you have any questions about Inventory Management Tooll, please get in touch with us by going to our CONTACT PAGE and we'll be happy to assist you.
---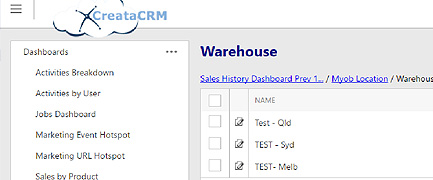 Action tasks including
Add Products
Conduct Stock Takes
View History of Transactions
Orders and Shipments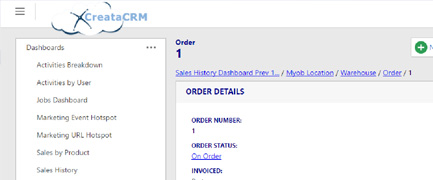 Users are given the freedom to Order Stock from any warehouse and send the shipment to the customer. This provides greater freedom to those staff who need to work from anywhere other than the office. Creating invoices and shipments for any stock item from any warehouse is quite powerful.