You can manage your sales inside of CreataCRM easily. You can also manage sales teams and gain greater understanding of your business oppotunities centrally with CreataCRM. Everything from the initial lead through to creating the invoice. All in the cloud. Enjoy greater accountability of your sales team and their daily activities including KPI reporting. Monitor details like conversion rates, phone calls, wins and losses. The information available to you is far greater and easily accessible whereever you choose to work too.

Watch a Video Tutorial - How we can manage your leads with CreataCRM. Being a complete solution

Watch a Video Tutorial - SALES MANAGEMENT with the sales deck

Watch a Video Tutorial - SALES MANAGEMENT

Watch a Video Tutorial - QUOTE MANAGEMENT

How we can Enhance MYOB Sales Process

THIS VIDEOS ALSO FEATURES ON THE TUTORIAL PAGE - TUTORIALS PAGE

We believe this system will liberate you. Heck, it liberates us in our office!! We love it. We are excited to be launching this technology. Be liberated today!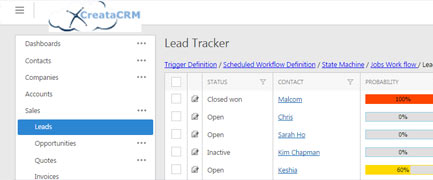 Incoming & Qualified Leads are brought into your centralised CreataCRM system. Everything from your website enquiries, emails & phone calls can be monitored. The users has the opportunity to qualify or disqualify the lead and progress the Lead through the stages ie Contact, Company and/or Opportunity etc. From there, attach documents as well and add activities and tasks easily creating a good understanding of any client and their history.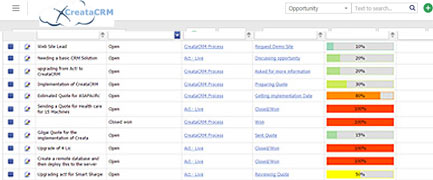 Via the Opportunities view, you can focus on the hot opportunities & win more jobs. Sales Opportunties are often the centre of your business & this feature enables you to link to the other areas of the CRM like Quotes and Projects etc. The Sales feature allows you to manage the opportunities process and the relevant stages and their probabilities, in one location. A process bar gives you a vuew of every opportunities in the system- whether its your own opportunities, or all your sales team.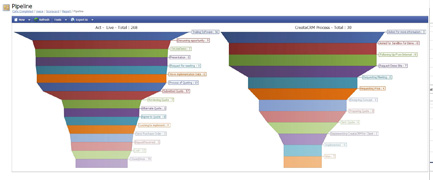 Reporting becomes important with Sales. View your Sales achievements in a Sales Pipeline. See which stage the sale is up to and where they are getting held up.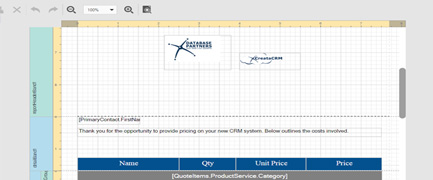 Once the user has added any products and services to the quote, the user will have the ability to edit the quote via the designer and make any necessary adustments prior to emailing a PDF of the quote with a click.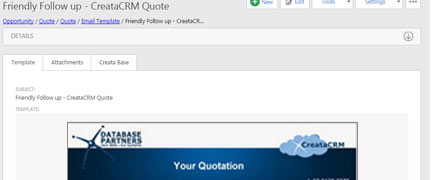 CreataCRM allows you to send out Quotes by using HTML email Templates. Send a professional Quote to your clients with an attached PDF. It's all possible in CreataCRM. You can then track the open(s) and click(s) on your Sent quotes to better guage the interest of your potential client.